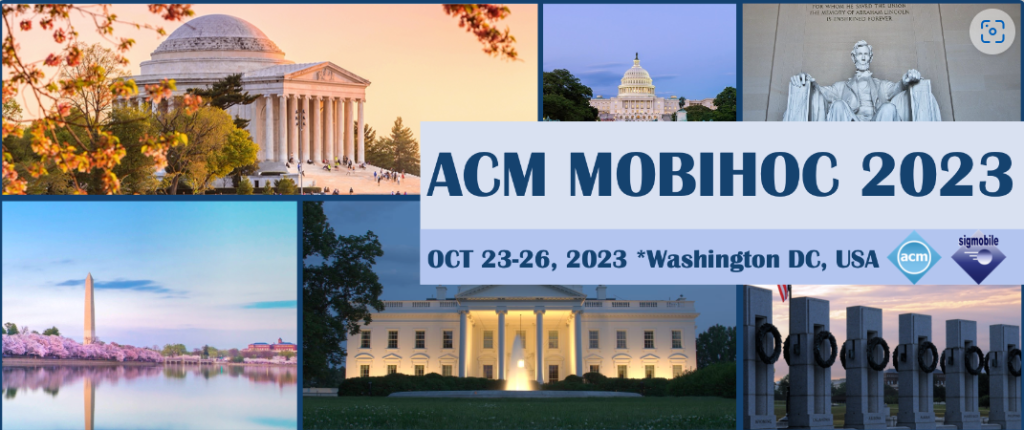 MobiHoc 2023, the 24th International Symposium on Theory, Algorithmic Foundations, and Protocol Design for Mobile Networks and Mobile Computing will be held in Washington DC, USA, October 23-26, 2023. MobiHoc is a premier international symposium dedicated to addressing challenges in dynamic networks and computing.
It will bring together researchers and practitioners from a broad spectrum of networking research to present the most up-to-date results and achievements in the field.
MobiHoc 2023 will feature a highly selective technical program, multiple distinguished keynote addresses, and an exciting panel. In addition, it includes workshops that are focused on areas of emerging interest. More information is available on the event's website.
DESIRE-6G and PREDICT-6G will be there, co-organising the "6G Programmable Deterministic Networking with AI" (6G-PDN) workshop, which will take place on the 23 of October. The aim of this full-day workshop is to discuss the roadmap and challenges in the technological areas of deterministic communications and deep network programmability in 6G to support future end-to- end time-critical applications, bringing together academic and industry researchers.
 Workshop programme
8:30 Opening
9:30 Keynote 1 – Kaushik Chowdhury, Professor and Vice Chair of Research at Northeastern University College of Engineering.
10:30 Session 1
12:00 Lunch
13:30 Keynote 2 – John Baras, Professor and Lockheed Martin Chair in Systems Engineering at the University of Maryland. Member of DESIRE6G External Advisory Board.
14:30 Session 2
15:00 Session 3
Towards extreme network KPIs with programmability in 6G Authors: Pongrácz, A. Mihály, I. Gódor, S. Laki, A. Nanos, C. Papagianni
Failure Prediction in Software Defined Flying Ad-hoc Network Authors: Uomo, A. Sgambelluri, P. Castoldi, E. De Paoli, F. Paolucci, F. Cugini
You can find more information here.
Register and join us!