TARGET-X Open Call Q&A session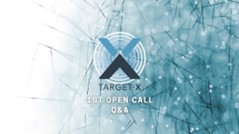 The TARGET-X project envisions accelerating the digital transformation of key verticals in energy, construction, automotive, and manufacturing using large-scale trials in multiple testbeds.
Questions and answers on your TARGET-X funding application
TARGET-X offers a unique opportunity for SME or micro-consortia composed of 2 SMEs to receive up to €60K equity-free and to supercharge the digital transformation by integrating 5G and 6G technologies. The proposed activities must address performance testing or the development of devices or solutions oriented to technology providers and use cases.
To take advantage of the offer, an application via TARGET-X Fundingbox is required. Activities from the verticals manufacturing, energy, automotive, or construction can still be submitted until July 26, 2023. However, there are a number of formalities to be observed when submitting an application. General instructions on the application process can be found on the microsite.
In addition, to answer questions about your individual application process, TARGET-X organised a Q&A session on July 5, 2023 (11:00 AM CET). During the session, project managers could get more information on questions such as:
What types of activities can be funded?
Who can apply?
How do you know if the project is elgible for funding?
What information do you have to provide for application?
Is it possible to modify your application?
We therefore cordially invite you to join the upcoming webinar. Register in advance for the free webinar directly via the registration page.