Erzsébet Fitori to join the Smart Networks and Services Joint Undertaking as its new Executive Director
Erzsébet Fitori to join the Smart Networks and Services Joint Undertaking as its new Executive Director
With nearly 20 years of experience in the telecommunication sector, Erzsébet Fitori has been appointed as the new Executive Director of the Smart Networks and Services Joint Undertaking by its Governing Board.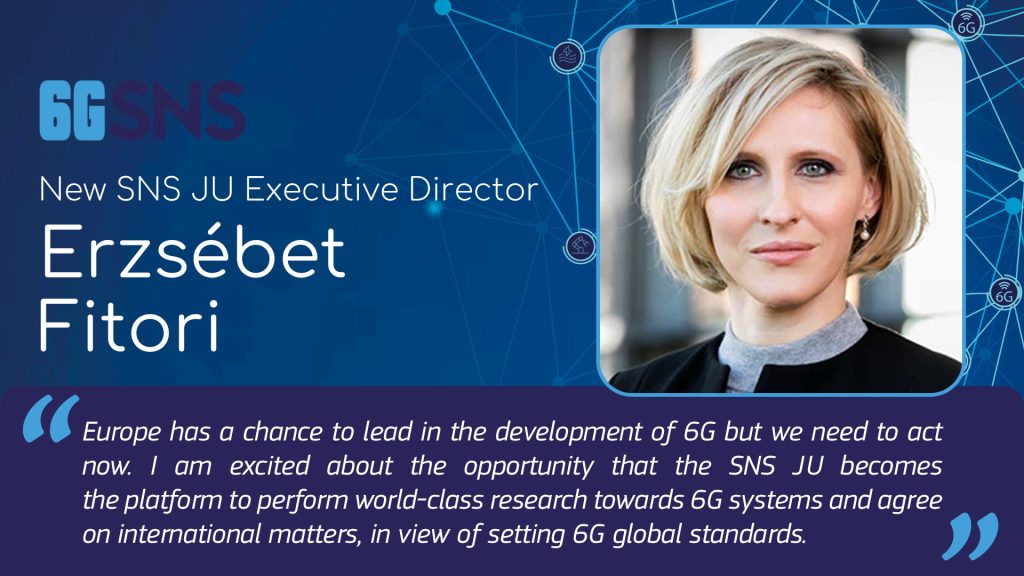 The Smart Networks and Services Joint Undertaking (SNS JU) is pleased to announce the appointment of Erzsébet Fitori as its new Executive Director, effective 1 October. She will be the Chief Executive responsible for the day-to-day management of the JU and will act as its legal representative.
"I am honoured to lead the Smart Networks and Services Joint Undertaking at such a pivotal moment. Europe has a real chance to take a leading role in the development of 6G but we need to act now. I am excited about the opportunity to develop further the SNS JU to become the relevant platform to perform world-class research towards 6G systems and agree on international matters, in view of setting global standards for 6G. With our public and private partners and a dedicated SNS team, I am committed to driving innovation and shaping the future of smart networks and services for Europe." – said Erzsébet, expressing her excitement about joining the SNS JU.
Her wealth of experience in the telecommunication industry positions her to work with the 6G-IA and the Commission in the Governing Board as pivotal in steering the SNS JU towards its missions of achieving industrial leadership in 5G deployment and 6G research and innovation in Europe.
Erzsébet holds an LL.M. degree in European Law from Leiden University (the Netherlands) and a Law degree from the University of Miskolc, Hungary. She has previously served as Head of EU Affairs & Relations at Vodafone Group and before that she led pan-European industry associations as the Director General of the FTTH Council Europe and Director of the European Competitive Telecommunications Association (ECTA). In her early career she was Head of Regulatory Affairs at Telenor and Assistant professor at the European and Private International Law Department of the University of Miskolc. She has a strong track record of creating and executing successful strategies, driving multistakeholder organisations, operational excellence and building highly effective teams.
Her mission will be to drive forward the SNS JU, a new entity officially established in November 2021. She will take over from Peter Stuckmann, DG CONNECT, who served as Interim Executive Director for the past two years and will complete setting up the Programme Office, currently employing 12 staff members. The SNS JU continues to grow and expects to reach its full staff capacity in early 2024.
About Smart Networks and Services JU
The European Smart Networks and Services JU (SNS JU) is a Joint Undertaking established in 2021 by the European Union Council Regulation No 2021/2085. With its Public-Private Partnership, the JU aims to facilitate and develop industrial leadership in Europe in 5G and 6G networks and services. The SNS JU funds projects that shape a solid research, innovation (R&I), and standardisation roadmap and deployment agenda by engaging a critical mass of European stakeholders and facilitating national and international cooperation on various 6G initiatives. The SNS JU also boosts advanced 5G deployment in Europe to empower the development of a leading European digital market and enable the digital and green transition of the economy and society.
For more information about the SNS JU, please visit https://smart-networks.europa.eu.
Follow us on Linkedin and get the latest information on our projects on Twitter. Did you miss our InfoDays or the latest SNS presentations? Browse our YouTube channel!